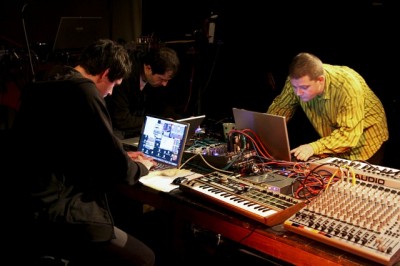 Members: Slavo Krekovic, Marek Piacek, Oliver Rehak (laptops, electronics)
VOICE OVER NOISE is a trio of laptop musicians from Bratislava. They create sample collages out of "stolen footage" material, instantly building a unique puzzle out of bits of our common past and present. Flow of unpredictable situations where Madonna meets Edgar Varèse, old computer game music sound together with the phragments of J.S.Bach's. Voice Over Noise are the live Recycle Bin of our pop culture: noisy, energetic, sometimes funny, but also sentimental refreshment of our collective memory.
"VOICE OVER NOISE czyli trio w składzie Slavo Krekovic, Marek Piacek, Oliver Rehak, to kolektyw elektronicznych improwizatorów. Wszyscy trzej używają komputerów oraz syntezatorów i innych urządzeń. Piacek studiował w konserwatorium, Krekovic i Rehak są muzykami, dziennikarzami, muzykologami i kuratorami artystycznych wydarzeń w Bratysławie. Połączyło ich poszukiwanie eksperymentalnych form wyrazu, które kanalizują w kolektywnej improwizacji łączącej wiele wątków z szerokiego spektrum muzyki elektronicznej i konkretnej." – Musica Genera Festival, Poland

RECORDINGS: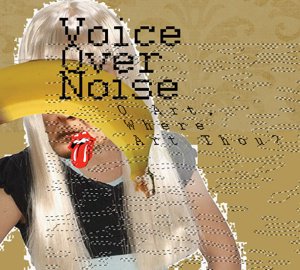 O Art, Where Art Thou? A new album by Voice Over Noise, the 'live plunderphonic' trio from Bratislava, is out now on Divis Slovakia (2010), distributed by Atrakt Art. It features mostly material identical to live concert programme performed by the band over the past 3 years, but much of it is also based on live improvisations. Recorded in stereo, no overdubs.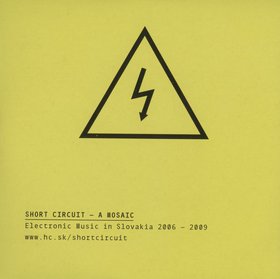 Voice Over Noise track "And You are Asking What About Me" appeared on Short Circuit compilation (Music Centre Slovakia, 2010).



LIVE VIDEOS:

@ Heavy Mental, Fleda, Brno (8.4.2008) / Tribute To Falco


@ Pohoda Festival 2008 (Kdyz se podari / If We Could Make It Happen)

@ Zilina Conservatory Hall 2009 (Voice Over Noise)

Voice Over Noise interview (in Czech/Slovak)
Album review in A2 magazine (Czech)








-> Web
-> Voice Over Noise at Last.fm
-> Upcoming performances of Voice Over Noise

····················░··································································

░░░░░░░░░░░░░░░░░░░░░░░░░░░░░░░░░░░░░░░░░░░░░░░░░░░░░░